Good News For A Change
Author:
Erika Mikaelsson
Published:
During august 2019
ISBN:
978-10-756764-0-6 Amazon
Format:
Soft cover
Language:
English
Pages:
95
Width / height / spine:
110 / 178 / 6 mm
Weight:
130 g
Buy at
Interior in black & white only
Also in other bookshops, both physical and on internet.
Something big is happening in the world of media.
The media that we have become accustomed to over the past 60 years is about to disappear. The audience, especially younger people abandon the digital TV, radio and printed newspapers increasingly.
This change in media consumption in our western world has created an emerging crisis.
Erika Mikaelsson states that in everything negative exists the seed of an opportunity to develop and improve.
During the last 200 years the development of media has been focused on the exterior: technology and design. Perhaps it is time to look at the contents now, actual journalism?
She points out that we need to move into a more holistic and positive paradigm that uses feminine values, as both women and men begin to focus upon nurturing and hope-filled ways of telling our stories, whether they are the personal stories we share with each other or the stories that are told in the media.
Read about her different view on media development and how it could lead to a change for the world …
Review
"Like FN-förbundet (United Nations Association) in it's project Världskoll.se (Keep an eye on the World) journalist Erika Mikaelsson has stated that positive news and examples are needed for the world to develop in a positive direction – not least in the light of technological developments that in recent years have created completely new conditions for our media. In the little debate book entitled "Good News For A Change", she highlights media development and the need for good news, arguing based on examples and own experiences of positive journalism as a means of change."
Tidningen Världshorisont (Svenska FN-förbundet), issue 2 2015 (in Swedish )

About the author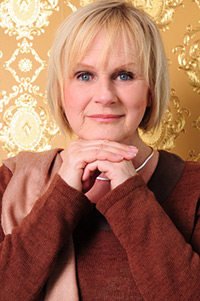 Erika Mikaelsson has worked as a news journalist for over 20 years on newspapers, radio and TV.